Floors
In order to ensure the durability of the building, a good precondition is good hydro insulation of the foundation  and the initial order of the wall and floor, in order to prevent the spread of moisture from the concrete to the wood.
The floor is made of solid wood (boat floor of 20mm), and we place it over a layer of waterproofing and stone wool or styrofoam (thermo-insulator), as illustrated.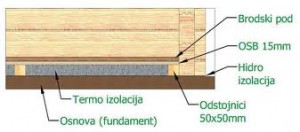 As additional services related to the ground floor, we highlight:
adding a layer in the form of OSB plates (improving thermal insulation)
increasing the thickness of the ship's floor from 20mm to 25mm
sanding and wood protection
In the case of floor structures, the floor structure is made of wood (ship under the thickness of 32mm), and, if desired, we can make the customer in the "sandwich" variants, where the layers are the next (from the top down):
ship under 20-22mm
air tunnel (50mm or more)
stone wool, as sound and thermal insulator (50 to 100mm)
decking floor under 20mm
Also, in the case of floors, we also make stairs, according to the plan of the building. Treads and supporting side elements are made of wood thickness from 35 to 50mm, depending on the complexity of the stairs, as well as the way of installation in the building.