Carpentry
Windows
Thermal insulation windows are made of solid wood, with two layers of glass and a 12mm air tunnel, therefore – 4mm glass + 12mm air tunnel + 4mm glass. Glass and metal parts are delivered to the facility.
The standard sizes in our offer are:
100×120 cm
100 x100 cm
60×60 cm (for bathroom)
Also, it is possible to manufacture window covers as well as the production of windows of the necessary dimensions according to the plan of the object and the wishes of the client.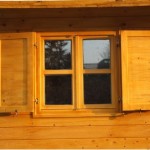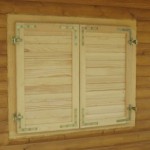 The door
The exterior and interior doors are made of solid wood, 40 mm thick.
The standard dimensions are 80 × 205cm and 100 × 205cm, and if necessary, the customer can change the dimensions and model of the door.
Also, it is possible to make and balcony doors, which can be with or without shutters.