Javor 16+6
Модел "Model "Javor 16 + 6" belongs to the group "Mountain wood cabin". "Mountain wood cabin" are ground-level buildings that feature one floor, entrance floor and high ceilings of the interior. As far as the exterior is concerned, the main visual characteristic is the roof structure, which, under sharp angle, descends almost to the ground, and thus enables a very successful protection of the object from mountain winds and the application of snow.

"Javor 16 + 6" basically has dimensions of 5.5mx4m which gives a total surface of 22 square meters, out of which 16 goes to the interior and 6 on the entrance floor. The interior is composed of a living room, a kitchen and a bathroom.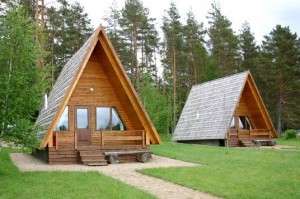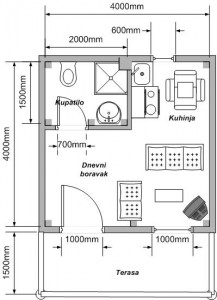 Order production
Arrangement and distribution of interior elements is subject to free choice of the buyer. In addition, the customer is also able to get a sleeping gallery that would take advantage of one part of the high ceiling. The dimensions of the object are also subject to change according to the customer's wishes.